HLFF Spotlight
---
---
Alumni in Action
The fundamental intention behind the week of the HLF is clear: Provide a selection of the brightest minds in mathematics and computer science the space and time to make connections and inspire each other. At times, those connections will create ripples that flow into collaborations and projects, with some of those efforts leading to concrete developments. In order to showcase these inspirational stories, the HLFF Spotlight series was created. Through interviews or brief video documentaries, find out how alumni have utilized the diverse programs available to develop their careers.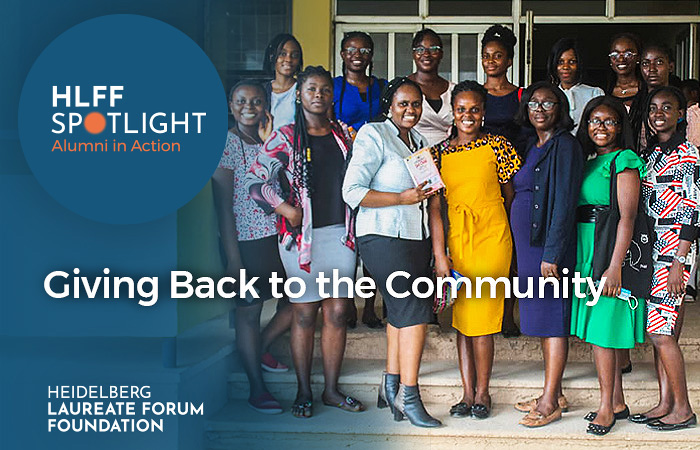 Giving Back to the Community
Aderonke Sakpere is an HLF alumna and computer scientist as well a lecturer at the University of Ibadan in Nigeria. We sit down with Aderonke to talk about her early years studying computer science and how she was inspired to give back to her community. Aderonke tells us about the Tech Girls Club she founded in 2019, which aims to support young women in their pursuit of a career in STEM and has already impacted around 4,000 individuals.
We also discuss her ongoing development of "Kọ́Èdè", an app that enables and encourages early childhood learning of her native Yoruba language in order to better preserve her heritage.
Making Math Fun Again
Edin Liđan is an HLF alumnus, mathematician and computer scientist, as well as Assistant Professor at the International Burch University in Sarajevo, Bosnia and Herzegovina. In our interview, Edin sits down with us to talk about how his love for mathematics was kindled at an early age and tells us about his AlumNode funded project "Making Early Mathematics Learning Available and Fun."
He hopes his resulting application – "FunMath4Start" – will contribute to improving early mathematics education for children of all backgrounds, regardless of socioeconomic status.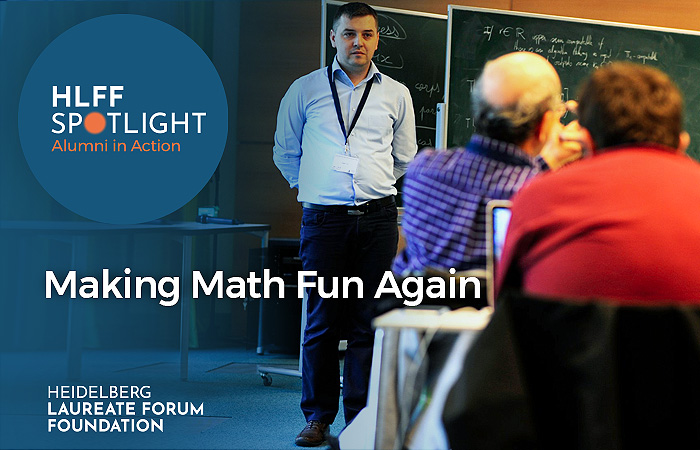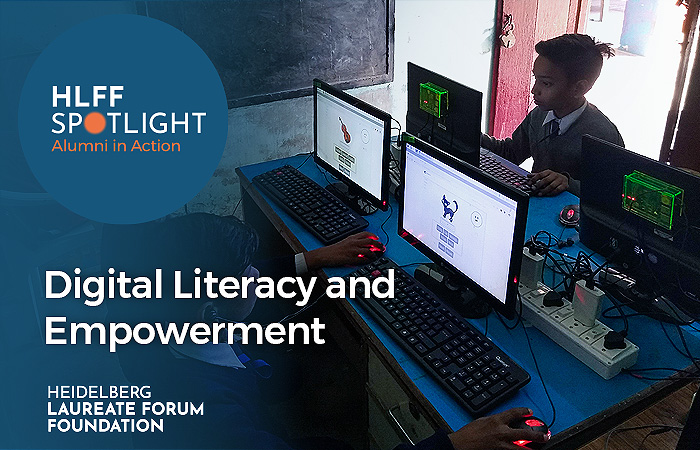 Digital Literacy and Empowerment
Pankaj Baranwal is an HLF alumnus, coder, and founder of the non-profit computer literacy start-up eVidya. In our interview, Pankaj sits down with us to talk about his life-changing experiences during the 6th Heidelberg Laureate Forum, and how it led to him founding several non-profits, including eVidya, which promotes computer literacy and education for poor and disadvantaged communities in his home country India. Pankaj discusses the amazing work eVidya does, how he became inspired to found it and his other projects, as well as what continues to drive his passion.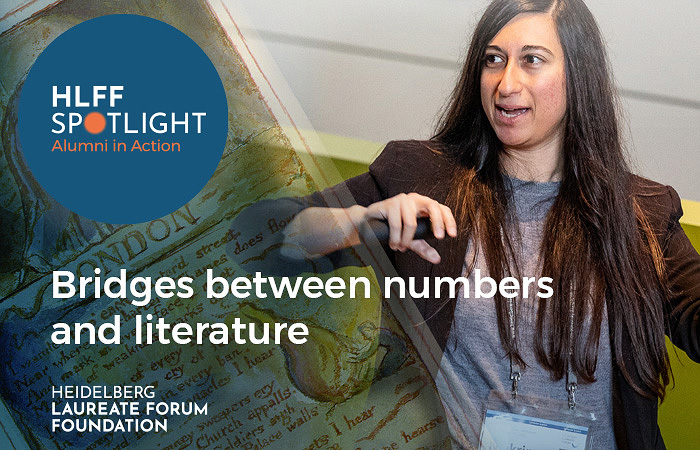 Bridging Disciplines
Makrina Agaoglou is an HLF alumna and a Juan de la Cierva Incorporación Researcher in the Spanish National Research Council (CSIC) at ICMAT – Institute of Mathematical Sciences. Her current project "Perceptions of Death in Collective Memory: Numbers | Spaces | Texts" is an interdisciplinary effort that utilizes poetry to make mathematical modeling more transparent and comprehensible to the non-mathematicians. Makrina discusses the inherent difficulties working with vastly different disciplines but also explains how rewarding the experience can be by providing new perspectives and improving communication skills.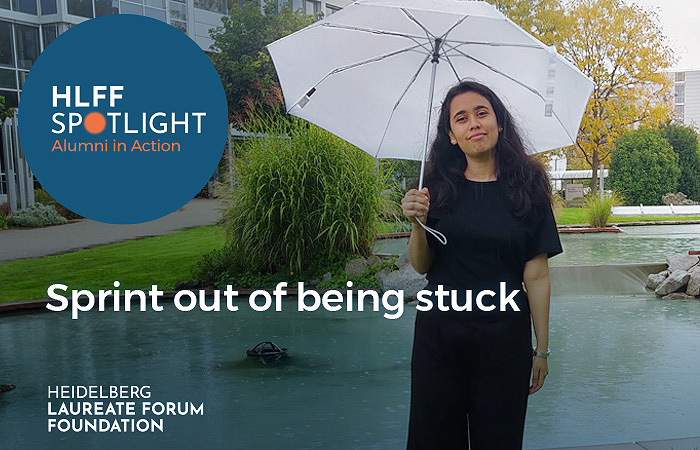 Life Sprint
Pooja Bharadwaj, an HLF alumna and a Security Consulting Engineer at Cisco in Bengaluru, India, opened up about her experience of feeling stuck by working from home. As a member of AlumNode, Pooja was able to take advantage of a timely offer from the network. "Life Sprint" is a virtual workshop and method-based coaching program designed to help young researchers reevaluate issues in their career and strategize lasting solutions. Pooja shared about the difficulties of working remotely, her experience with Life Sprint and how it provided her with tools to work through feeling stuck.
Intercultural Science Art Project
Demian Nahuel Goos, an HLF alumnus who teaches at the Universidad Nacional de Rosario in Argentina, introduced the "Intercultural Science Art Project" to participants of the 7th HLF in 2019. Motivated by finding an accessible medium to explain his research in mathematics, Goos realized that artistic interpretation often offers a clearer window into complex themes. The diverse disciplines and cultures brought together by the HLF platform provided an ideal environment put his theory into practice. Since then, Goos' project has grown and developed with adaptations organized in other countries and institutions.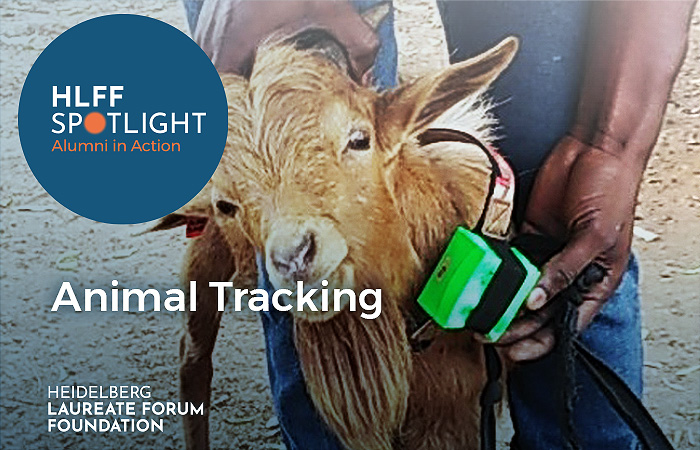 Animal Tracking
HLF alumni of the Federal University of Agriculture, Abeokuta in Nigeria developed a tracker that was tested on free range animals at the university farm. Their project, "Design, Deployment and Adoption of an Intelligent Animal Monitoring and Tracking System for Pasture and Range Management (NIMTrack)", received essential funding from the HLF alumni platform AlumNode. Findings were presented to local farmers during a workshop in February 2020, where the tracker's potential to inhibit animal rustling was made evident.